2017 Worldwide Giving Report
ExxonMobil's community investments are aligned with economic and social goals, and complement our business focus in countries where we operate around the world.
2017 Worldwide Giving Report
Overview
We partner with governments, other private sector companies and nongovernmental organizations to help enhance quality of life. We help address community and business needs such as health care, education and economic development. We have several community-specific programs, which range from access to skills training to support for cultural heritage protection. We consider the development goals of each community when deciding how best to invest, and we often participate in public-private partnerships and ongoing stakeholder engagement to help improve social and economic conditions.
In 2017, together with its employees and retirees, Exxon Mobil Corporation, its divisions and affiliates, and the ExxonMobil Foundation provided $204 million in contributions worldwide, including a combined $161 million in cash, goods and services. Of that total, $84 million supported U.S. communities and $77 million supported communities in other countries. ExxonMobil employees and retirees donated more than $43 million through ExxonMobil's matching gift and employee-giving programs.
Our employees are involved in local communities by providing pro bono legal services, helping build homes and serving as volunteer firefighters, among other activities. Through company-sponsored volunteer programs, more than 17,000 ExxonMobil employees, retirees and their families donated more than 483,000 volunteer hours to almost 4,100 charitable organizations in 26 countries in 2017.
The following report highlights ExxonMobil's 2017 worldwide corporate contributions and community investments. Organizations in the United States that received grants of $5,000 or more are listed, and our investments benefiting countries outside the United States are summarized. Contributions reflected in this report were made by Exxon Mobil Corporation, its divisions and affiliates — including XTO Energy Inc. — and the ExxonMobil Foundation.
Arts and culture
ExxonMobil provides monetary support to arts and culture projects in many of the countries where we work. In 2017, worldwide corporate and ExxonMobil Foundation contributions supporting arts and cultural programs totaled more than $2.8 million, of which $2.4 million benefited communities in the United States.
In the United States, our primary funding for the arts is through the ExxonMobil Foundation's matching gift programs. These programs encourage and assist employees and retirees to contribute to cultural institutions by providing a matching contribution. In 2017, employees and retirees donated more than $2.7 million to arts and cultural organizations, and the ExxonMobil Foundation contributed more than $1.7 million by matching their donations.
Civic and community
ExxonMobil supports many community priorities where we do business. In 2017, contributions totaling $62.1 million were made directly to civic and community service organizations around the world. Of this amount, more than $44 million benefited communities outside of the United States.
At ExxonMobil, we foster a culture that encourages employees to give their time and talents year-round to contribute to the communities where they live and work. Around the world, our employees and retirees are involved in the local community by providing pro bono legal services, helping build homes and serving as volunteer firefighters, among other activities. We also encourage our employees to bring their professional expertise to programs that further math and science education.
Health and environment
In 2017, worldwide health and environmental contributions totaled $17.4 million, with $11.1 million benefiting communities outside of the United States. Our environmental investments focus on several critical areas, including conservation in a range of ecosystems; environmental education and outreach; and scientific research of environmental issues of global importance. These contributions are only a small portion of our company's overall investments in the environmental area. For example, investments do not include environmental capital and operating expenditures.
We invest in programs targeted at improving health, mainly in the developing world, with a particular focus on combating malaria. In many locations where we operate, malaria continues to have a major impact on local communities. Successful global efforts continue to reduce the burden of disease; yet, about 450,000 deaths were reported worldwide in 2017. Mortality rates have decreased by approximately 60 percent worldwide since 2000. From 2000 until year-end 2017, we committed more than $163 million to help fund malaria programs throughout Africa and the Pacific Rim, reaching more than 125 million people. Our support has helped distribute more than 14 million bed nets, 4.7 million doses of antimalarial treatments, more than 3 million rapid diagnostic kits and train more than 650,000 health workers. In 2017, we provided $7.4 million to the fight against malaria. In the United States, we focus on research related to environmental and community health. ExxonMobil committed a total of $18 million in multiyear grants to three Houston health care facilities to support cancer prevention and cardiovascular research, expand pediatric care for children with autism and enhance pediatric liver disease research and clinical services.
Higher education
In 2017, ExxonMobil provided $41.5 million worldwide to colleges, universities and other organizations that support higher education. Of this amount, more than $37.9 million benefited higher education in the United States.
Our higher education initiatives focus on supporting programs that improve teaching and learning in science, technology, engineering and mathematics. We also support diversity-based education programs and professional societies such as the National Society of Black Engineers, Society of Women Engineers, Society of Hispanic Professional Engineers and the National Action Council for Minorities in Engineering, among others.
Our major financial support for higher education in the United States is through the ExxonMobil Foundation's Educational Matching Gift Program, which matches contributions of ExxonMobil employees and retirees to higher education on a 3-to-1 basis. In 2017, we granted more than $32.6 million in matching funds to more than 850 colleges and universities, the UNCF, the Hispanic Scholarship Fund and the American Indian College Fund.
Pre-college education
Improving educational programs worldwide to enhance math and science skills is a focus area in ExxonMobil's community investment strategy. In 2017, worldwide contributions in support of pre-college education totaled more than $15.3 million, with $9.1 million benefiting education in the United States.
Education is a fundamental building block for individual opportunity and economic growth. Science, technology, engineering and mathematics (STEM) skills, in particular, are critical to ensuring today's students are prepared for the jobs of the 21st century. Our education initiative is focused on four key areas: contributing to the international efforts to reduce the out-of-school population; increasing the number of teachers who are equipped to teach math and science; graduating more students from high school ready for success in college and careers; and advocating for higher standards and rigorous assessments. In 2017, we invested $8 million in STEM-related programs in the United States.
Outside the United States, we establish local partnerships with organizations that have close ties with a country's educational system. For example, through our work with the Qatar-based Educate A Childinitiative, we are working to help enroll some of the 61 million primary school-aged children who are currently not in school and help achieve universal primary education. We currently support this program in Nigeria and Angola.
Public information and policy research
ExxonMobil provides support to organizations that promote international relationships, institutions with strong research capabilities that contribute to informed policy decision-making, and organizations that assess public policy alternatives on issues of importance to the petroleum and petrochemical industries. In 2017, worldwide contributions for public information and policy research totaled almost $5.8 million, of which $5.7 million was within the United States.
We support organizations that foster international understanding and engagement, including the Council on Foreign Relations and the World Affairs Council. Our involvement with the Business Council for International Understanding, Corporate Council on Africa and other similar organizations facilitates cross-cultural advancements and progress.
Women's economic opportunity
In 2017, contributions totaling $7.5 million were made to help advance economic opportunities for women. Empowering women is a key element in enhancing local and international economic development. Investing in women helps support broad transformation in developing regions and contributes to a more equitable society. For example, it helps to lower infant mortality, improve health and nutrition, increase educational opportunities, enhance economic growth and food security and reduce poverty.
Our goal is to help women fulfill their economic potential and improve their well-being and that of their families and communities. We invest in programs proven to provide women with skills and resources needed to increase their productivity and income. In addition to supporting research which identifies innovative and proven interventions to help women advance economically, our investments focus on developing women farmers, entrepreneurs and business leaders, identifying and certifying women-owned businesses and improving women's access to technology. From 2005 through 2017, ExxonMobil invested nearly $111 million in promoting economic opportunities for women, reaching tens of thousands of women in more than 90 countries.
Workforce development
In 2017, contributions totaling $3.2 million were made in support of vocational and entrepreneurial education. Of this amount, more than $2.9 million benefited communities outside the United States.
In the United States, ExxonMobil funded workforce development programs to recruit, train and develop workers for successful careers with local industrial employers. In the Houston, Texas region, we provided $200,000 to the Lee College Community College Petrochemical Initiative and in Baton Rouge, Louisiana, we provided $75,000 to the Baton Rouge STEM-Up program.
United appeals and workplace giving
U.S. employees and retirees pledged $15.1 million to the United Way, in addition to United Way corporate gifts in the United States totaling more than $3.7 million. In Houston, Texas, employees and retirees raised more than $11 million during the company's 2017 fundraising campaign for the United Way of Greater Houston. ExxonMobil provided $1.6M in corporate donations to the Greater Houston area as well. Employees and retirees in Canada pledged more than $1.8 million to the United Way, bringing the total corporate and employee donations in Canada to more than $2.6 million. In Dallas, Texas, ExxonMobil and its employees and retirees donated almost $1.9 million through our Employees' Favorite Charities Campaign.
Over 2,800 employees volunteered more than 28,000 hours at Houston-area nonprofit agencies, which was supported by more than $400,000 in volunteer involvement grants by the ExxonMobil Foundation to the organizations where they volunteered.
Related content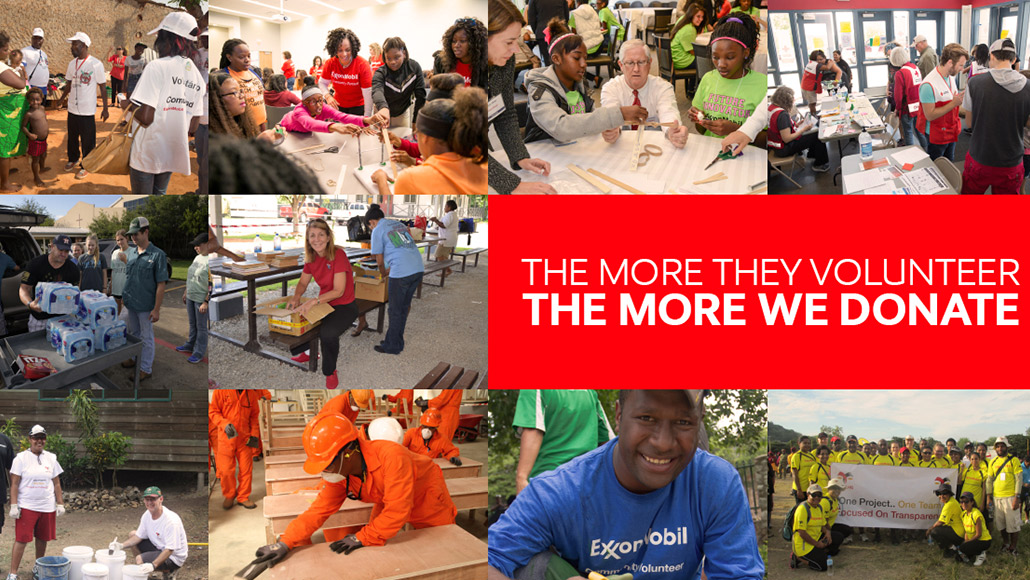 ExxonMobil's success in the energy and chemical industries makes it possible for us to contribute to the well-being of the local areas where we make significant investments, provide products and pay taxes.
Giving Article • Oct. 16, 2018