Newsroom
the Lamp
For a century, The Lamp has presented an array of stories, photographs and videos of ExxonMobil's people, projects and places of business from around the world.
the Lamp bids farewell
Editor's note: With this issue, the Lamp will conclude publication, ending a nearly 100-year run. During that time, we published close to 420 issues and more than 12,600 pages. This article chronicles the history of the Lamp and highlights the array of other communication choices now available to readers.
the Lamp Article
A winning attitude
The Lamp profiled Darren Woods when he became senior vice president in 2015. In his earlier interview, he described his upbringing and his experience in the Downstream and Chemical organizations. Now that Woods has been named chairman and CEO, we wanted to check back in and ask what challenges and opportunities he sees in his new role.
the Lamp Article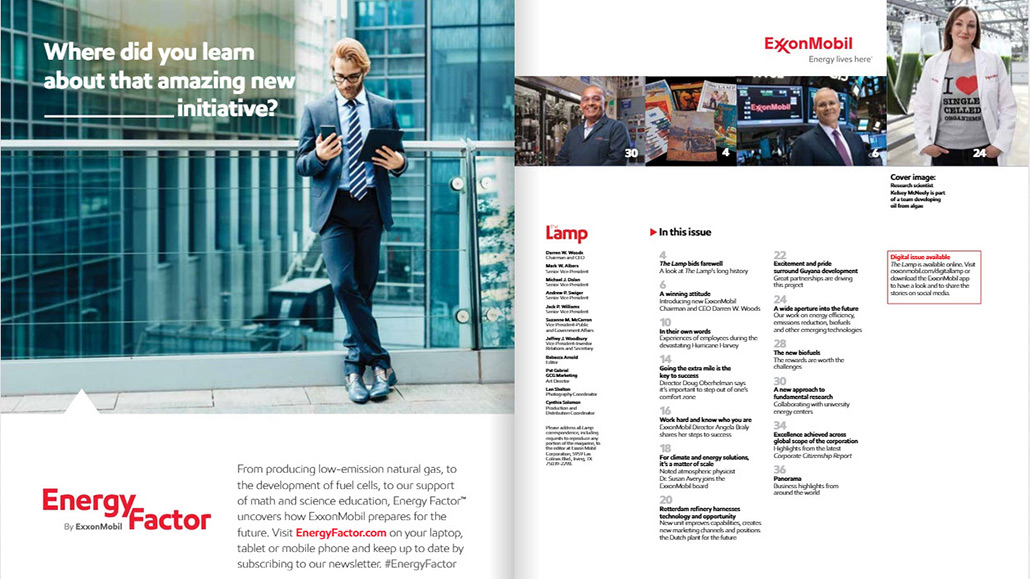 the Lamp — a digital flipbook
View the Lamp, a compilation of ExxonMobil business stories and photographs in an e-book format.
the Lamp Report
Community
In their own words
Relentless winds. Non-stop rain. Epic flooding and destruction. Hurricane Harvey brought it all. ExxonMobil employees responded with resolve, perseverance and selfless inspiration. Here are a few of their stories.
Learn more
Environment and safety
Excellence achieved across global scope of the corporation
The current Corporate Citizenship Report highlights progress in safety, emissions reduction, environmental and other operational performance.
Learn more